The quality of your future assumptions determines your success
FUTURE RADAR: Trends,Technologies andFuture Markets
Seneca knew already 2000 years ago:
"There will come times when we will be surprised that we did not know such revelations".
Your knowledge and experience come from the past, but you always decide for the future. Therefore: See, understand and have more of the future!
You can live wonderfully without the futurologists. But you can't make any business decision – no hiring, no investment, no retreat – without assumptions about the future. Every decision you make is based on assumptions about the future.
No one can predict the future. But you can improve what you assume and know today about the future.
Trends and technologies are drivers of change in societies and markets. They determine which business areas and professions will lose or even disappear and which will grow or emerge. You determine how and, above all, what you will live on in the future.
With your future management, you answer existential questions: What is in store for us? What not? What might surprise us? How do we align ourselves to be future-robust? On what vision do we focus our energies? What is right and important for the future? What are we doing about it?
Trends, technologies and future markets - What will you live on tomorrow?

Tap into the knowledge of futurologists and experts with FMG
Future knowledge is only useful if it offers concrete benefits in the here and now. Everything else is entertainment.
We capture, analyze and structure the future knowledge of thought leaders, researchers and developers worldwide. We compare their statements and test them against each other for their content.
We follow all the major trends and technologies that will shape life and the markets of the future. Our focus is not only on the well-known megatrends such as urbanization, mobilization or resource scarcity.
In addition to the 50 major global trends, we are constantly monitoring around 700 other trends, technologies and topics of the future.
The trends that you rarely or never deal with in your day-to-day business are often the ones that pose particular threats and opportunities.
Already in one of the first steps of our cooperation you have your individual map of trends and technologies that are and will become relevant for you or that can make you relevant.

The FMG Trend System for your business
Wouldn't it be handy if you could see all the big trends at a glance? In a sensibly structured trend system? So that you can orient yourself, so that you are on safe ground? This makes your job and your business model sustainable, and your decisions better!
We give you a trend system that comes from practice. We have been developing the future strategies of renowned companies for 30 years. The FMG Trend system comes from exactly such projects.
We represent the trends like a periodic table of the elements. Because these trends are the elements that will make up the future of your business and your profession and your life.
We structure the trends into areas. So biosphere, technology, society, politics, economy. We do this primarily because the technologies have to be considered separately. They are the fastest and, next to human motives, the strongest forces of change.
The FMG Trend System includes around 50 major trends and technologies at the top level and more than 700 others at lower levels.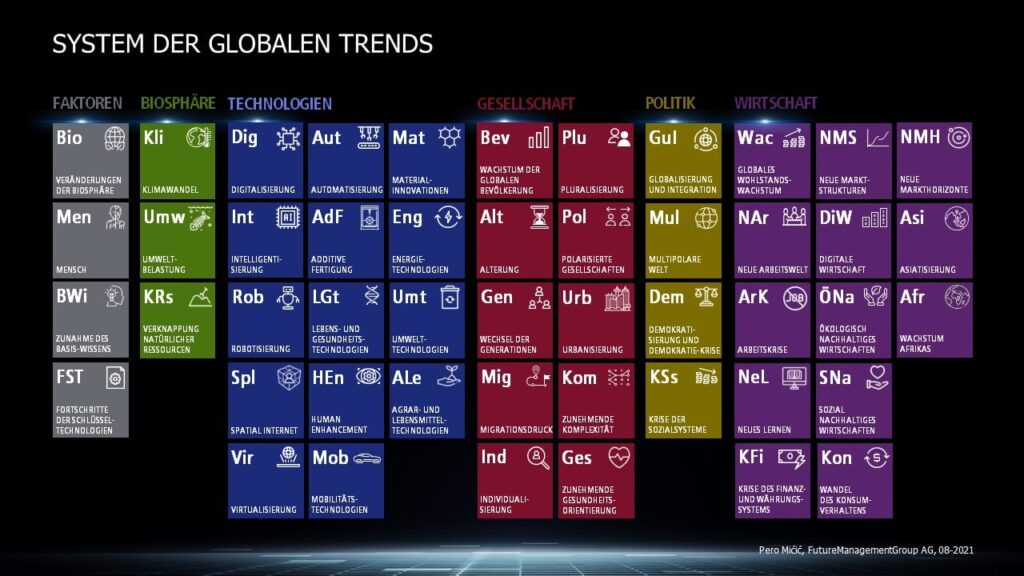 Discuss your considerations and questions with FMG experts
In a video conference via TEAMS or ZOOM or simply by phone, Berthold Müssig will advise you on your considerations and questions. This way you can easily find out if and in which form the FUTURE RADAR is useful for you and your company.